Ouh, Damn! It's been a time I've written something here, hope you are still surviving in these very hot summer days, to be really honest I'm slowly starting to melt...
There are so many things I want to tell you all, I've been out and about, gone to Tenerife, where I was enjoying whine diet. Then had a bit of Tom Hanks airport situation in Londond when coming back home, and then was willing to tell you everything about it, but my keyboard broke down. So, here I am, after almost a month since I came back from Tenerife, finally able to blog.
I've decided to write about Tenerife some other time, when I'll have all day free to just sit and type and type, and type till I fall asleep by the computer, but now I have to tell you about something I've been inspired a lot lately. (guys, sorry ,this won't be your kind of thing).
Say hello to 1960!
I've always been a big fan of Twiggy. Those of you who doesn't know her - she was a very famous(I'd say the most famous) model of 60ties. With her tiny, tiny body and big, sad eyes, she became famous only when 16. During the 1960 almost every fashion magazine had her on it's cover, and girls were crazy to look like her. Of course, the skinny frame of hers was hard to get, but what the woman of that time fell inlove with, was her mesmerizing, big eyes.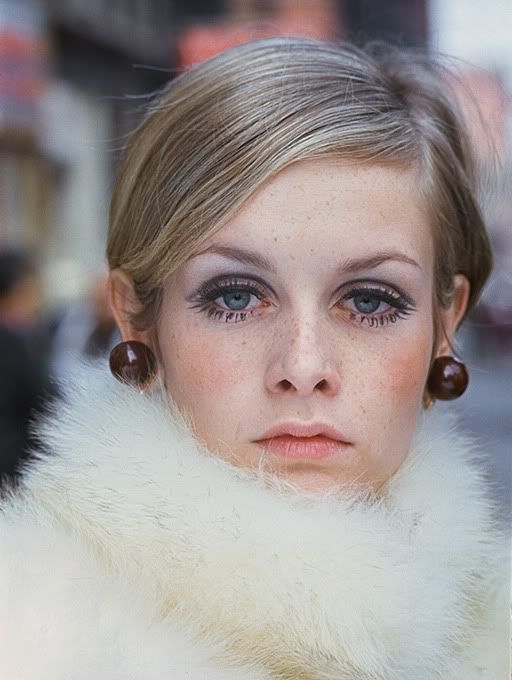 It was 1960, a post war period when women were finally allowed to look beautiful, to look graceful and have eyes of angels, sometimes it went to the point when some thought it might be a bit too much, but that look has survived till nowadays and we sure have to thank some 60ties models for that. The face of 60ties girl was clean, natural colours, eyes looked big, sometimes there was 3 or 4 fake eye lashes on a model just to make her eyes look magical, and they sure did. It was all about eyes, it's as we know the miracle of our emotions, of our true inner self, and it looked like all girls from 60ties, with that eye make up, were just from outer space, because, man, they looked beautiful. It was new and it was fabulous!
So, the 1960 once again has taken me under it' spell, I'm thinking about some surprises, stuff that's gonna change. Definitely am up to taking some photos with 1960 look(yes, I'm taking photos again) and had it in my mind to maybe make a photoblog, not to trash this one with some of my not so good photographies.
Peace out,
AgitaV.
listening to
Sunday Girl - Self Control